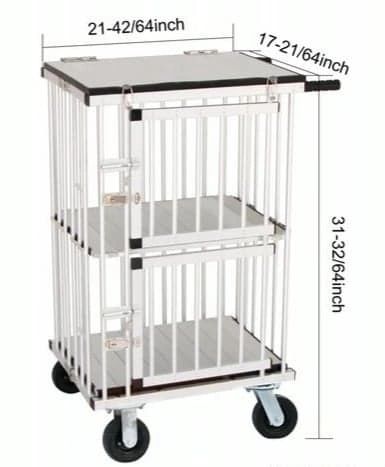 Show dogs Trolleys
Dog show trolleys/cage/grooming table on wheels .
Foldable
Single or double. Colors available.
Here are the differences between our trolleys and BIS and some other competitors:
Wheels are nonpneumatic, making them all terrain. 

Both companies have two of the four wheels that are directional. BIS puts those wheels on the far side away from the handles. This makes their trolley very wobbly and hard to control. We always suggest to clients to install their near the handle, making it easier to control while driving. 

Our trolley is completely made out of alluminum. Most major trolleys in the US market (including BIS) use alluminum on the bars and frames, but the bottom panel, top panel and some companies' shelves, are made out of plastic that will bow in just a few months of use. If they are not made of plastic, they are made of wood that makes it extremely heavy to tote around. 
BIS fixes their wheels on their trolleys with only one screw. Our wheels are fixed onto the trolley with two very sturdy screws with a lock nut and washers. 
On our trolleys, there is a seperate latch that enables you to lock the berths of your trolley. This is an added benefit for those who use a berth of the trolley to store their possessions. 
The handle on BIS do not fold down. This adds about 6-8 inches of extra room that they will have to struggle with when loading and unloading. Our handles unscrew and fold down flat.
Our grooming arm that attaches to the trolley is considerably more light weight and portable.  
The mini trolley can accommodate 1 or two dogs as the middle shelf can be removed.
The grooming arm and clamp come seperate.